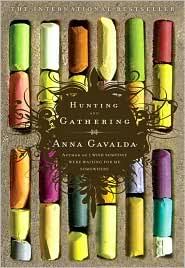 One of my favourite fiction novels is Hunting and Gathering by prize winning author Anna Gavalda. The French bestseller was translated by Alison Anderson and soon became a must have item for many bedside tables.
Gavalda explores the idea of fate bringing together four people; who hopeless apart, become one big family who can take on almost anything. The characters are comprised of a young starving artist, an obnoxious (and  womanising) chef, an aristocratic neighbour and a neglected grandmother. I love the humour and the causal tone Gavalda used throughout. You are left to feel like you are reading a letter from a friend, instead of this comical and comfortably predictable novel. Every reader is bound to laugh out loud, maybe even shed a tear two, and most likely relate to one or more of the characters. I think it is pure brilliance, I wouldn't mind opening my copy again tonight and reminiscing with fictional friends.
I would definatley reccomend reading the novel before watching the 2007, novel based film. Although it does host a number of my favourite French actors, nothing beats the original storey with the characters you create yourself.